trudi.sozial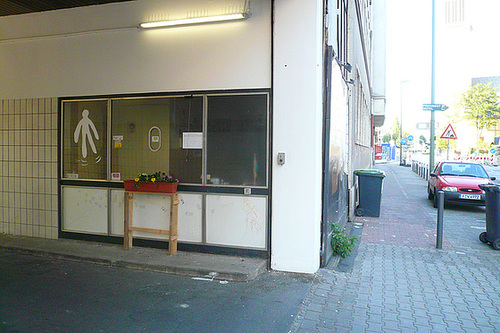 A former guard lodge serves as a meeting place for people interested in conversation on art and art related fields. Participation in strange sort of games may be required too. Noise music also possible.
multi.trudi number three, with a new and hopefully steady place for the next time. Sometimes on Saturdays anything but exhibitions is possible. Poetry, reading, discussion, indoor golf, laptop music. No pets! Check website for hours.
The place is closed after six years of operation (2004 - 2010) and more than 150 events since October 2010. Sandip Shap continues with City Watch Office.
This project is no more in operation.
The place itself may still exist.
Location
Hohenstaufenstr. 13-27
60327
Frankfurt
Map: 50.109140, 8.656316
Website
Open
irregular, check website
Type
Persons of this Place
Stefan Beck
Related Articles
** By Stefan Beck on 16. Aug. 2004, 15:52