Phantombüro
After two years of homelessness artists' group Phantombüro moved in this space, a former Pakistani restaurant. From the beginning it was clear that this huge space (over 300sqm) was only for a short time, with a rent exceeding DM 3000 per month.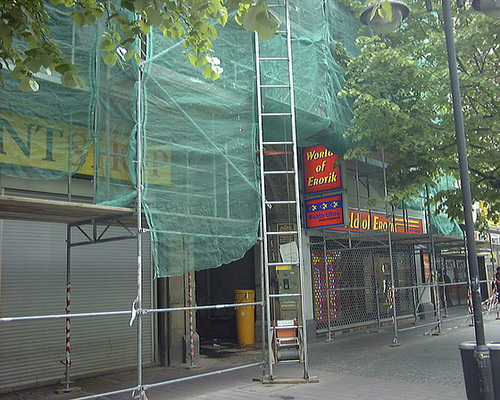 Location
Kaiserstr. 53, 60329 Frankfurt
Time of Operation
May 1999 - January 2000
Abandoned since
February 2000
Fate
building is under rennovation at the moment (2002).
Links
Phantombüro was active between 1997 and 2001.
-- http://aka.ip-technik.net/milo/members.html
-- http://aka.ip-technik.net/milo/crossnet/cross.html
-- http://phantombuero.blogspot.de/
This project is no more in operation.
The place itself may still exist.
Location
Kaiserstr. 53
60329
Frankfurt
Map: 50.108560, 8.669140
Type
** By Stefan Beck on 09. Jul. 2009, 17:24